One of the major social media changes that shred the market to pieces in 2020, was the well-known 'TikTok Ban'.
TikTok was downloaded 611 million times in India, which is around 30 percent of the app's total global downloads. Once it got wiped out of the Indian market, a huge portion of the population started looking for alternatives to satiate themselves.
Some quick-witted individuals saw a golden opportunity and grabbed it by launching similar short-video apps. In India, these majorly include MX Takatak, Roposo, and Moj.
On a global level, this race has recently been joined by YouTube Shorts and Instagram Reels.
More than 50 million Indians use short video apps to browse short videos. After only being launched globally a few years along, these short video-sharing apps have exploded in popularity.
Take a look at their astonishing strategies to fill the void TikTok Ban had created:
1. Meme Marketing
Ever came across such ticklish memes?
One might be surprised to know that these are actually part of a marketing strategy. Social media platform owners target users that are already on other similar platforms. This allows them to reach the easiest convertible users who are well aware of the platform's functionality and purpose.
Many social media platforms, including MX Takatak, contact famous meme pages and pay them to create promotional memes like these. These memes, then, are delivered to the content consumers by the meme pages which creates a buzz among the public.
The more people come across such content, the more attention and traffic the brands gain.
2. Influencer Marketing
There are always a few content creators who have the highest number of fan following. Their followers get influenced by them and want to stay connected with them, by whatever platform seems possible. When TikTok was banned, its top content creators went looking out for other similar platforms to quickly shift their fan base there and retain it.
Apps like Moj and MX Takatak contacted these influencers and invited them to their platforms. These influencers, along with themselves, brought thousands and millions of their followers along with them.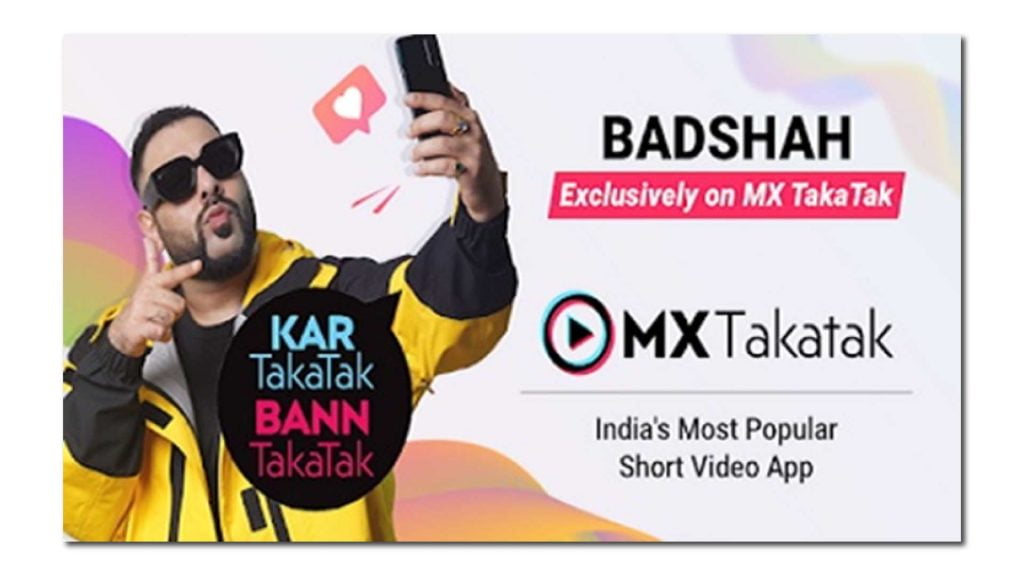 Examples- Even for its recent campaigns, MX Takatak has collaborated with several content creators/influencers and celebrities like Badshah, Armaan Malik, and Virat Kohli.
These people are directly and indirectly, influencing and bringing their respective fan bases to the platform, sometimes for money or sometimes for popularity.
3. Inviting brands for collaboration
Research has actually shown that 86% of individuals would like to see more videos from brands.
And nearly 85% of companies are already using video as a marketing tool, a short video app is a good way to expand your video content's reach.
In recent times, short-video applications are among the most used daily applications.
The reason is simple: they provide people with a new choice and match their fast pace of life. Businesses and influencers both leverage this massive opportunity with more features (filters, stickers, etc.) and campaigns to keep the users stick around and maintain the excitement.
According to MX Takatak, some brands are even pitching their products and carrying out campaign experiments while being interested to work with the app company.
4. Monetizing and Cash Prizes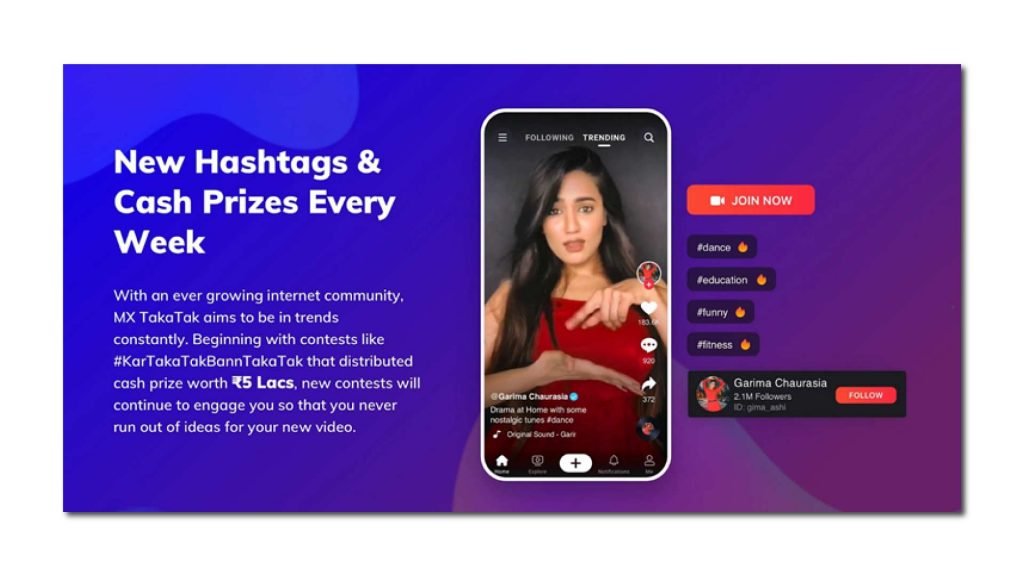 There are majorly two types of content creators on these short-video platforms;
Those who create content for money, and
Those who create content for fun.
While promoting themselves, these companies are trying to target both categories with relevant incentives.
One of the major reasons why content creators stuck with TikTok was its monetization policy. According to some users, TikTok paid them well for their content. For content creators who do it for the money, these companies have started monetizing the content after a certain number of views/followers/likes, to keep up with the competition.
And for the content makers who are here for solely entertainment or artistic purposes, companies are bringing up cash prizes or competitions to them. This usually increases user retention and increases reach, if these satisfied users share such content and create UGC.
5. Organic PR
Who doesn't appreciate good PR?
However, for such social media platforms, PR is associated with their users. These companies have worked on getting valuable users who are well recognized by the media and public. If one of these users makes a significant comment or does something that can spark the news, the app will indirectly get promoted.
For instance, if a platform has a lot of celebrity users, the media coverage will be considerably greater.
For example, "___ announced the launch of their latest song on   (the app's name)  ."
Such a news headline will bring an interested audience to the platform, out of curiosity.
Another 'not-so-popular-yet-effective' way to get in the news positively, is by using strategies that are spectacular enough to be turned into case studies.
For example, due to its hike in downloads in the Indian market, Roposo was entered as a case study into the reputed Harvard Business Publishing platform. This gave it extensive reach and credibility.
See what these brands did individually
1. Roposo and Glance
Alright, the users have joined the app. Now? How will you remind them about your existence while being interesting?
Roposo and Glance figured it out together. Roposo is a short video-making app while Glance is the consumer content entity on the B2C side of InMobi's business that delivers personalized content to screen zero of smartphones.
So, every time users unlock their phones, lock screens are loaded with new visuals and interactive content that is personalized.
As an individual service provider, Glance would've had a hard time reaching the right audience. But with Roposo, it can reach the relevant audience which is interested in short, creative videos.
At the same time, Roposo found a way to retain its user base by giving them engaging content, even off-screen, through its collaboration with Glance.
2. Moj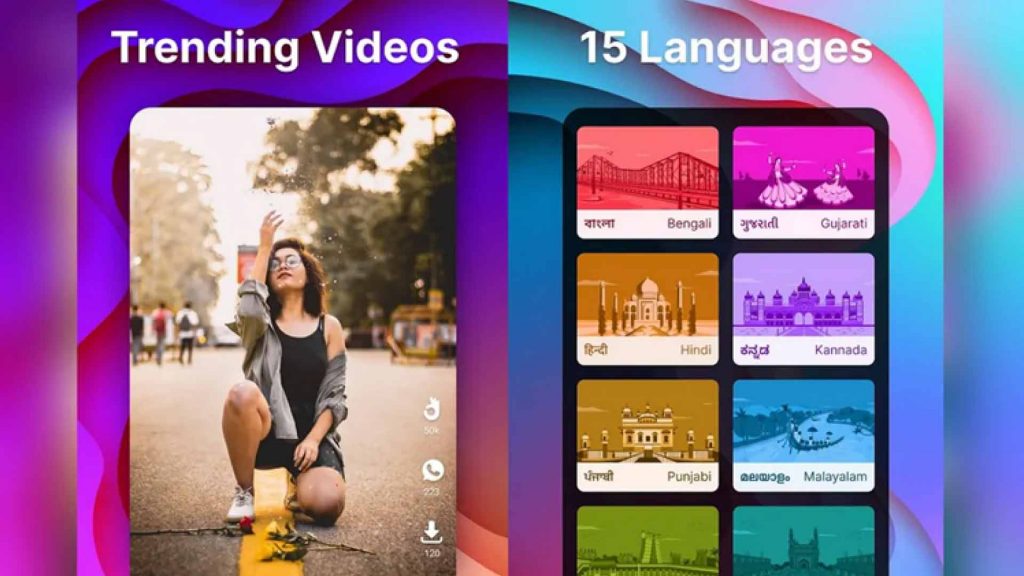 Moj was created in just 30 hours! All because of wanting to grab the content creators that TikTok had left behind. Unlike YouTube Shorts and Instagram Reels, which mostly target lavish creators, Moj is majorly focused on regional Indian audiences.
It made the experience more user-friendly by adding around 15 Indian regional languages.
This is the reason why the recent data shows that Moj has been gaining 14.34 million daily active users (DAUs), massively surpassing its Indian rivals.
3. Fame House by MX Takatak
MX TakaTak took marketing to a different level. It introduced its very own web series – Fame House. Fame House featured several famous social media influencers with a significant fan following. These content creators were challenged with daily tasks to win the battle of fame and this was exclusively on MX Player.
During the lockdown in 2020, Fame House became the general public's go-to reality series to binge-watch and kept the users engaged on the platform. The hype has been built up so much that hundreds of content creators and their fans are now anticipating the second season.
Conclusion
These apps and their strategies proved well enough that conventional ways of marketing are long gone now. If you are a social media platform or your target audience consumes social media content, then you need to meet them where they are, in their world – social networking sites.
Let us know your thoughts about these apps and their promotional tools in the comment box.
Scale Your Business Digitally
Subscribe to our monthly newsletter
Thank You For Subscribing!