Get More Enquiries with Digital Marketing Services for Tourism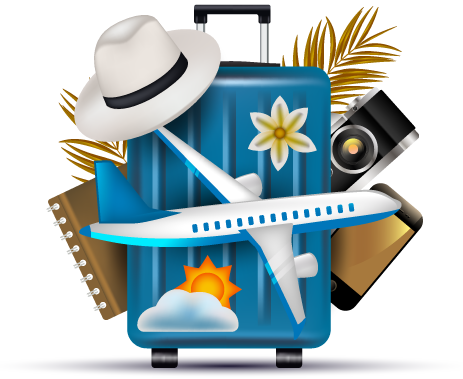 Digital marketing helps a tourism business to go hand in hand. The modern wave of travelers is no longer dependent purely on local authorities to help them decide where to go. Gen Z people are finding inspiration online through several platforms like Facebook, YouTube, Instagram, and many other travel channels.
In today's modern era, we see a rise in the demand for digital marketing, and the tourism industry has not let this opportunity slip away. With online facilities, tourism business agencies deals and post ads that attract customers towards their services. Digital Marketing is a guide for travelers to get the best of their travel experience.
Many companies use digital marketing in diverse sectors that proved its effectiveness in bringing more leads. Of course, more leads mean more sales, and more sales mean more profit. The tourism industry is no different and has adapted well to the new world to raise the visibility of their brands and to be able to attract potential customers.
Why Digital Marketing is Beneficial in Tourism Sector?
Studies show that companies in the tourism sector performing better with digital marketing now. A new survey reveals that there are actually 3.2 billion or around 50% of mobile users worldwide. In general, digital tools help you monitor and analyze your data. All consumers can engage through the sales funnel and service period.

Customer Engagement
No matter where your customers are, you can hear about what your clients want right before they use your tourism services, you can communicate with them during and after the service.

Create Personalized Experience
Digital marketing makes it easy for you to obtain and analyze the results. It makes you strategize better considering your guests and give them what they're looking for on their next travel.

Easy Communication
Using digital marketing, you can reply to queries directly and more efficiently. You can post advertising from a range of attractive destinations to visit to show prospective clients your unique tourism offers.
How can Digital Marketing Services for Tourism Industry Help?
Tourism digital marketing helps you understand the clients and deliver them what they're seeking for their next journey.
Why Should you Choose RaSu Creatives for your Tourism Digital Marketing Services?
Drive Traffic that Matters
RaSu Creatives help to create content with relevant keywords to optimize all your tourism webpages. It adds a product advertisement linked to landing pages that drive future guests and customers.
Build Client Trust
Our tourism digital marketing services are enormously optimistic. Our team tries every bit that makes your marketing strategies work out and accomplish your end goals.
Leverage Latest Trends
The tourism sector tries something new with the going trend. We help you to study, analyze and implement the methods for better results. This brings interest and conversion from potential customers.
Frequently Asked Questions
We provide high web traffic sources, brand awareness, improve cost per lead, and growth in online conversion rates, these are measurable.
We cater comprehensive wide range of cutting-edge technologies that fulfill the full criteria of global tourism, assists tourism companies to stay at the top of their game in an increasingly competitive marketplace. Our team handles your customers and enquiries, back-office processes to provide updates on your bookings and customer documents, and a travel operating framework. It lets you monitor prices and allocate contracts, and a separate API that links you to a worldwide network of leading tourism providers.
Yes, we provide online reputation management to address any negative or false comments, and actively monitor mentions of your brand on websites and social media.
Yes, we do provide mobile optimization. It helps you customizing your website content to ensure that audience to access the site from mobile devices.
What are you waiting for? Let's Start Working Together
Fill in your Project Briefing