Increase Sales with E-Commerce Digital Marketing Services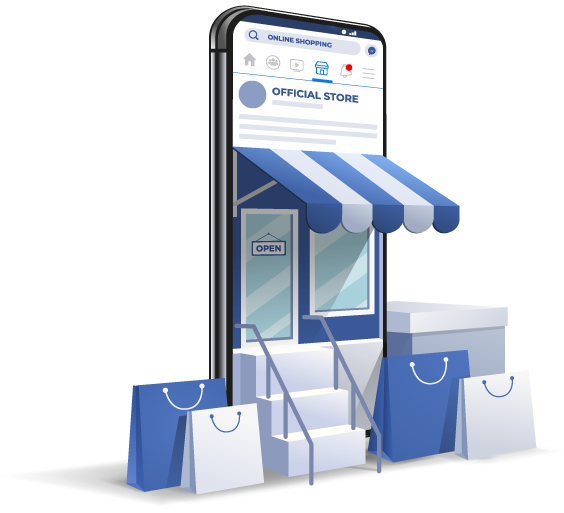 E-commerce generates tremendous revenue using digital marketing as it helps to gain consumers and brand awareness. Before making a purchase, consumers are no longer reliant on just one content or word-of-mouth. They make sure to read the feedback about a product on all the websites wherever the product is advertised and listed.
Over 35 million social media visits contributed to nearly 529,000 orders. Facebook helps to generate more traffic to the website from other social media, which leads to sales that comprise an average of 85% of all orders. As customers get distracted very easily, it becomes necessary to attract customer attention.
From here Digital marketing takes up a move and steps into the picture that leads e-commerce businesses to face challenges. To make it easier for e-commerce businesses, Digital Marketing focuses on integrating the relevant marketing platforms, finding out some of the most important digital marketing channels.
Why Digital Marketing is Beneficial in E-commerce?
E-commerce generates tremendous revenue using digital media as it aims to gain consumers and brand awareness. Customers get distracted easily, so it is very important to grab and maintain consumer interest. This is the point where digital marketing comes into the picture. It assists e-commerce companies to go through certain challenges.

Save Time and Resources
Without digital marketing, e-commerce can not survive for long. It doesn't take much time for the user to browse it on the internet and order the required without using heavy resources.

Measure Performance Effortlessly
Digital marketing has made it easy for e-commerce businesses to measure the graph of sales it is recording. Once you're done running the campaign, you can easily evaluate marketing performances and valuable insight.

Drive Traffic that Matters
Digital marketing not only helps in engaging with audiences but also increases bookings. It helps make your profile visible to your ideal audience and people who are likely to book your hotel as a guest.

Leverage Multiple Marketing Channels
Digital marketing helps your e-commerce businesses to use multiple marketing methods like social media, email, PPC. It allows us to take advantage of the available resources with minimum monetary inputs than traditional media.
How can Digital Marketing Services for E-commerce Help?
Our team will customize a multi-channel e-commerce marketing strategy aimed to achieve your sales goals. We offer a multitude of services that can grow your e-commerce store into a booming business!
Why Should you Choose RaSu Creatives for your E-Commerce Digital Marketing Services?
RaSu Creatives has proved its existence in marketing, serving hundreds of small businesses and converting them into a brand.
Client First Approach
Your requirement is our first priority to deliver. We serve our clients to raise as a brand with quantity and quality traffic brings up-curve in the sales.
Extensive E-Commerce Experience
A Brand is about creating a distinct feeling and experience for your customers. We help your brand develop as an emotion to your potential targets.
Transparent and
Data-Driven
Our team of digital marketing services in e-commerce design a transparent frame of pricing for our clients. We don't believe in try and error, our team use data to generate strategies for further marketing plans.
Frequently Asked Questions
Digital marketing helps your business to promote itself without compromising on quality. You can use all the multimedia channels to advertise and market your brand. We help your business leverage and grow from channels having a higher reach to valuable and potential customers.
Implement the right tactic and drive a bunch of traffic just in one go! We help our clients to use the rights and meaningful strategy that drives quality traffic that eventually turns into potential buyers.
Our team of experts study the data and execute Conversion Rate Optimization to bring up an increase in sales. Our team identifies actionable ways to enhance your conversion rate.
Social media is drives engagement from potential community form must share to must click on ads. Whereas, e-commerce has become the first choice for every customer before stepping into the market to get the best price delivered at your doorstep.
To generate the best ROI, the most valuable metrics that need to be focused in your e-commerce marketing services are, Average order value, Cart abandonment rate, Conversion rate, Cost per acquisition.
What are you waiting for? Let's Start Working Together
Fill in your Project Briefing