Your website is a miniature version of your restaurant, in digital form. You can not have huge traffic on your website from the very first day. Sometimes, it takes months to build a good number of regular visitors and sometimes, it might never happen to a website, if you don't use the right tools.
Having a well-built website lying on the last pages of search engines is like having your restaurant far in the city outskirts where people can't reach it easily.
In both cases, you need to use tools to increase the visibility of your platforms. While in offline mode, you can put signboards to enhance visibility, in online mode, you can optimize your website with the right keywords and content to increase visibility on search engines. This optimization is also called Search Engine Optimization (SEO) and it helps in increasing your website's online ranking.
What is Restaurant SEO?
Restaurant SEO is not different from other SEOs but its intent varies. Generally, brands use one or a combination of various SEOs for better results.
In the case of restaurants, it's suitable to start with and focus on Local SEOs.
Restaurants tend to target local audiences which have the highest chance of turning into customers. Thus, to reach those people and lead them to your place, you need to optimize your content with keywords prominent in your locality's searches.
But for the entire process of SEO, you need to ensure that your base is robust and bug-free. Your base here will be the website.
Try to eliminate all kinds of technical issues or your website and/or app before beginning the SEO.
How to use SEO?
Though the number of ways to use SEO is uncountable and still undiscovered, for now, we'll be sharing the 10 most crucial SEO techniques for restaurants.
Here's the list:
1. Focus on mobile first
"89% of dining research is done by mobile before visiting a restaurant."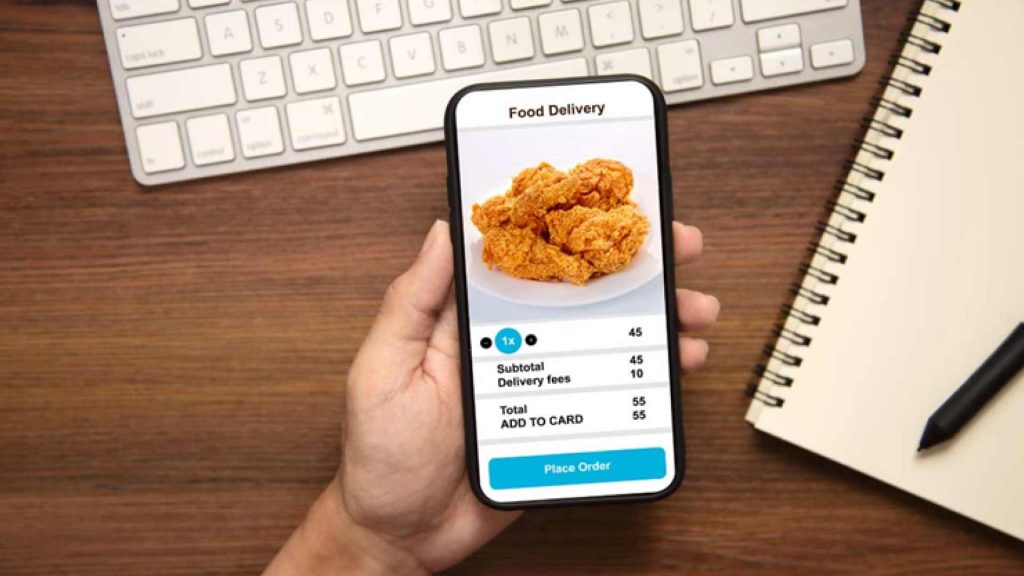 This is the reason why you definitely need to make your website mobile-friendly. As a search engine, Google evaluates your site using a 'mobile' device for organic rankings before they use your desktop experience.
Google uses the small screen, and phone experience, as a metric, to score your site to rank in the results.
Therefore, check and rectify your site's mobile view. Ensure that all features are working properly and your website's theme doesn't get disturbed in the mobile view.
If you provide facilities like online reservation and online payment, they are well linked and user-friendly, especially for mobile devices.
2. Find out what diners search
If you're thinking about simply getting search phrases from search engines, it won't be sufficient. Due to the heavy use of voice searches, you'll have to update your keyword searching methods.
Think from the customer's perspective. What keywords can they search for? Listen to what they are asking for. Talk to them when they visit you about how they discovered your restaurant.
3. Enhance visibility on Local Search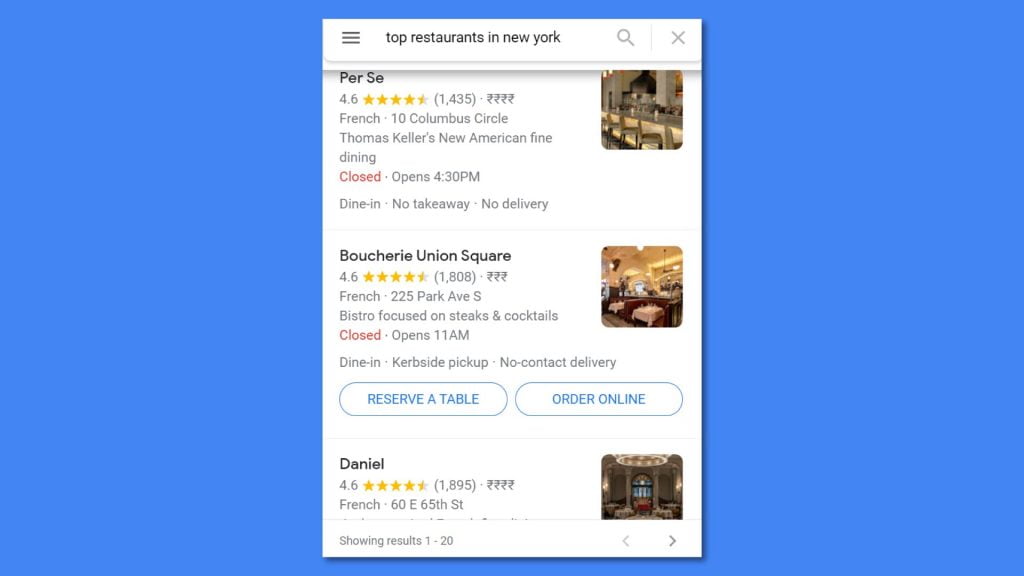 It's clear that someone sitting across borders from you will not visit your restaurant, on a regular day. Since you'll be focusing on the local market, use local SEO.
And don't stop there. The local market is your territory, claim it!
Aim to dominate it by feeding viewers with regular content of photos, videos, snippets, map packs, etc.
Through thorough research, figure out the best, relevant keywords in your locality and use them appropriately in your content. Also, keep track of the most popular and demanded cuisines in your local market and try to provide those to your customers.
Remember that the local market is your most easily tappable market. Word of mouth spreads quickly here and locals can turn into your customers the quickest.
4. Be present on Google My Business
This is one of the most crucial steps to rank better on Google. Google definitely promotes its platforms better than others.
Start by setting up a Google My Business (GMB) account and post regular updates on it.
Pitch yourself on Google and Bing. Both the platforms provide features such as map pack, menu preview, and even the ability to order directly from the search results.
Make sure to include a lot of professional pictures of your cuisines, menus, the behind-the-scenes, and the overall ambiance of your restaurant.
One of the first things that'll be useful for your customers on GMB will be your location.
Other than this, your customers can use Google My Business to:
Reserve a Table
Place orders
View the Menu
You can also attach links to your GMB account, which will most likely increase your conversions.
Also, while posting content, you can try the following types of posts:
Learn more
Reserve
Sign up
Buy
Get offer
5. Find the Right Keywords
Before starting any kind of promotion, you need to identify and describe your target audience. You also need to ensure that you're thinking from the customer's point of view and not just for keywords that are associated with your products.
Maybe you offer Pepperoni Pizza but your potential customers won't always search "pepperoni pizza in …".  Use free platforms like Google / Bing / Uber suggest and Ahrefs to find the keywords that people search for.
Also, with changing times, the use of emoticons is also increasing. If you can find suitable keywords that include emoticons, feel free to use them to rank better.
6. Gather Reviews & Testimonials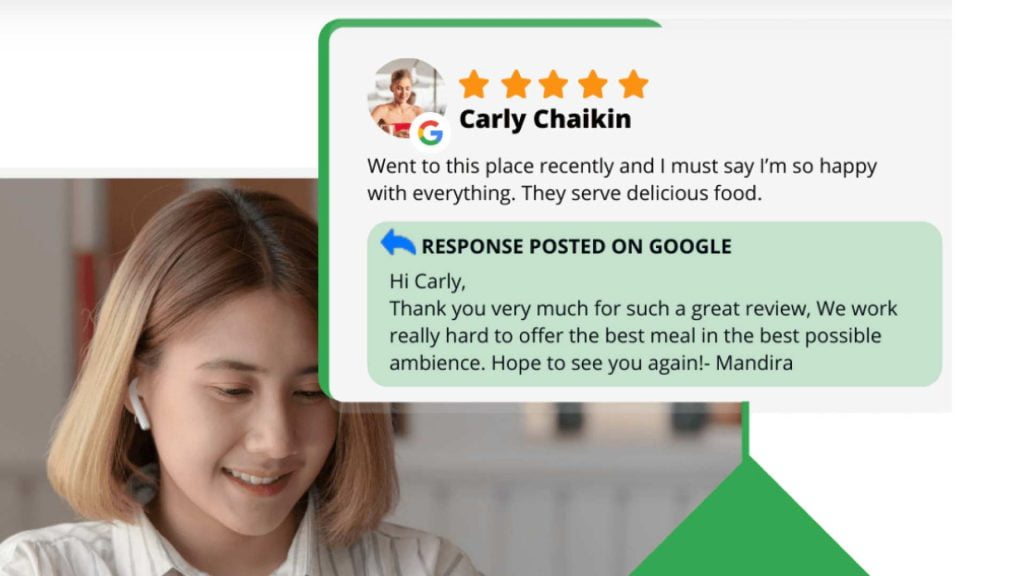 It's a simple concept. If you have organic reviews to back up your claims and services, search engines will give you the spotlight.
Encouraging customers to leave a review will benefit your SEO.
Use reviews to assure Google and similar search engines that you are trusted by the public. This will also encourage your target audience to try your services.
Diners can leave reviews on your GMB page using their Google account profile. The reason these are valued more is Google can verify the user as being real and the review as being more authentic.
7. Engage on Social Media
"49 percent of consumers learn about food through social networks."
It doesn't even need an explanation when we tell you that social media is one of the most cost-effective and result-oriented promotional tools. Social media caters to people who are already interested in the kind of product you offer, you just need to reach them.
And there are several ways to do so, including organic reach and paid promotion.
Social media also gives you the liberty to experiment with different types of visual elements. For example, images, carousel, videos, short videos, polls, 24-hour stories, etc.
These tools can be complicated to deal with if you aren't well versed with them already. Take a stroll through our social media services for restaurants, for SEO.
8. Use Technical SEO
Imagine, after all the efforts, you might be able to bring convertible, potential customers to your website and then the site takes too long to load. The customer will leave and will probably never return.
Just like the way you take care of your restaurant's interior, you need to ensure that your website is also user-friendly.
Focus on a few areas, like:
Decrease loading time
Use images and videos
Plant the right keywords across the pages
Keep it mobile-friendly
Technical SEO is a broad topic. To understand it better for your business, check out our SEO services for restaurants for more information.
9. Track Website Analytics
If you're not tracking your analytics regularly, then you're wasting your time, efforts, and resources, not investing them. To ensure that your strategies are working well, check metrics like the number of visitors, bounce rate, conversion rate, etc., regularly.
Track, measure, and adjust constantly!
There are many tools you can use to track analytics but you can always start with Google Analytics.
Track your site traffic and how your customer behaves once the visitors are on your site.
You can further utilize this data for your ad campaigns and retargeting as well.
Conclusion
Now it's your turn to get on board with SEO for your restaurant, if you are a beginner, you can always start with the tips we have shared here. But if you have implemented these tips and are looking for better results, we are always there for you.
Don't worry. Not every method works for everyone. It takes the initial efforts to figure out those few techniques and channels that are the most suitable for you and then keep your major focus on them.
This process might sound tricky and technical. To get a clearer view of it, contact us and our services will help you with SEO for your restaurant. Being in the industry, RaSu Creatives knows how the trends change and accordingly analyze your website and execute strategies.
Let us know your thoughts and queries in the comment section.
Scale Your Business Digitally
Subscribe to our monthly newsletter
Thank You For Subscribing!