If you're a beginner in the business world, 'Corporate Identity' seems like a heavy phrase. Something that requires extraordinary efforts and is suitable for large scale organizations.
That's not true.
Corporate Identity does sound solemn enough when we start to talk as an entrepreneur
or company. But don't let the term corporate identity fool you with the solemn feel in itself.
People often associate corporate identity as merely a design. But that's wrong.
Corporate identity is more than just a design, it is about reputation, it is about who you actually are.
The term is ultimately important for a business to stand out from its image in the market. Corporate identity means establishing a brand image that is easily remembered and recognizable by the public. A well sound corporate identity helps in standardizing your brand image to stand out in the market via different sources, like, social media, outdoor media, broadcast media, and emails.
Corporate identity presents your culture, values, and your internal and external communication. Corporate identity can be considered as an activity that the company goes through in order to accomplish the motive of creating good perception from their target audience.
To maintain a corporate identity create a brand guideline manual for employees that can be followed. For this, you need to be introduced to corporate design.
Corporate Design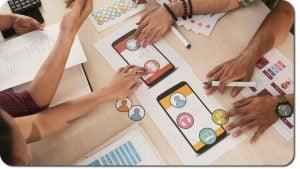 It is the most important part of corporate identity because it is the asset of the company that makes it unique. It gives the company brand identity to make it stands out from its competitors. Corporate identity builds your brand style guide that is visually exhibited through:
Logo
Name
Style
Font
Color Palette
Typography
Corporate Communication
Corporate communication is the way your business disseminated data to employees, investors, external stakeholders, and customers. This incorporates advertising, internal-external communication, and reputation management.
Corporate Behaviour
Corporate behaviour is the quintessence of an organization. Through corporate behaviour, an organization should present its fundamental beliefs,  brand promise, and theory.
Prominent brands accomplish this through corporate social responsibility. Corporate behaviour is the manner by which you present your image to the network everywhere, including clients, customers, employees, and investors.
What Is Brand Identity?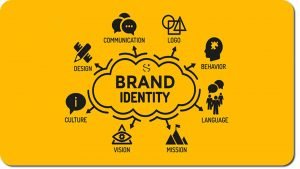 Brand identity can be defined as how a brand wants its perseverance to be taken by its target audience. Your audience connects well with you when they understand the message you want to convey to your brand.
It is a message that is conveyed to the customer about the brand. Maintaining this message is the most important for brand consistency so your objective market will consistently perceive your image and keep their image persistent.
Keeping up brand personality can be baffling when old logos are drifting around in the organization's shared drive. One approach to get it better on maintaining with it is to do up-to-date logos with more creativity and promoting collaterals and security and this is how you can keep all your advertising materials cooperative, adaptable and steady.
What Is Brand Image?
Brand image or corporate image is the current external insight held by the customer. It is a general belief and association your potential customer has about your image and, as an augmentation, your products or services. The corporate image incorporates the general impression that the customer has in their mind about your image from a wide range of sources.
Significance of Corporate Identity
A well-built corporate identity is crucial to and involved in creating customers' sentiments about your image and its products and services. In the present competitive market, it's important for businesses of all sizes, missions, and purposes to set up a corporate
identity manual, brand style guide, and standards.
Here are four reasons why:
Corporate Identity is a vast concept and process.
Cohesiveness: Setting up a predictable corporate brand identity guarantees that everybody in the association speaks to it a similar way every time they communicate with customers, partners, and likely clients.
Aptitude: Corporate identity helps express your image as a reliable master in your industry.
Reliability: A sublimely crafted and developed corporate identity standardize your brand visual to present across all channels, for example, email, offline-online media.
Authority: A solid corporate identity differentiates you from your competitors and makes your brand image steadily recognizable through design, communication, correspondence, and activity.
We can understand that if you are new to the corporate world, it can sound highly ambiguous to you. But it's also a crucial decision. Usually, your corporate identity elements stick with you for a long time and that's why they need to be thoroughly brainstormed before final investment and decisions.
Thus, feel free to contact us directly regarding your queries and visit our website for more information.
Let us know your thoughts in the comments and check related topics to assist your business.
Scale Your Business Digitally
Subscribe to our monthly newsletter
Thank You For Subscribing!